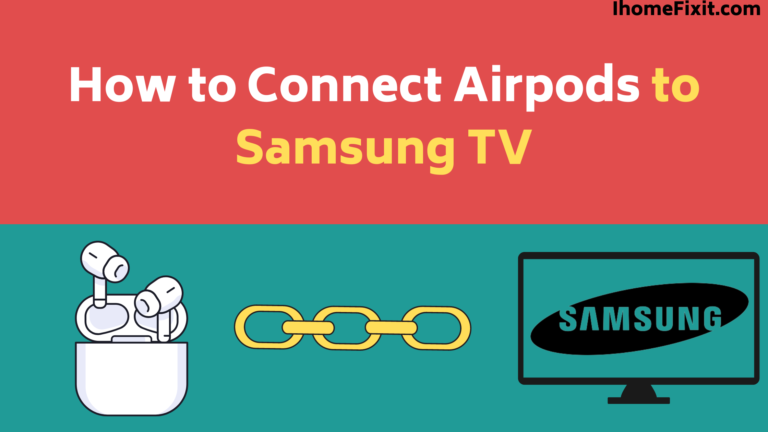 You know that nowadays, the use of digital and wireless headphones and AirPods has increased. You can connect AirPods to a mobile phone, speaker, or Bluetooth-connected device. But you know that Airpods can also be connected to Samsung Smart TV. If you connect AirPods to Samsung Smart TV, you get a different experience.
You can easily connect AirPods to any Bluetooth-connected device. To connect AirPods to Samsung Smart TV, you have to go to Samsung TV Setting. Then the Bluetooth speaker list has to be kept on by selecting the sound output in the setting. After this, you have to pair the TV and Airpods.
How to Connect Airpods to Samsung TV?
To connect your AirPods to Samsung TV, you need to open the Bluetooth Speakers menu in Samsung TV under Settings > Sound Output > Bluetooth Speaker List or a similar list of Bluetooth according to your TV model. Now you have to put your AirPods in pairing and select AirPods when it is searching on TV.
Samsung TV Supports Airpods: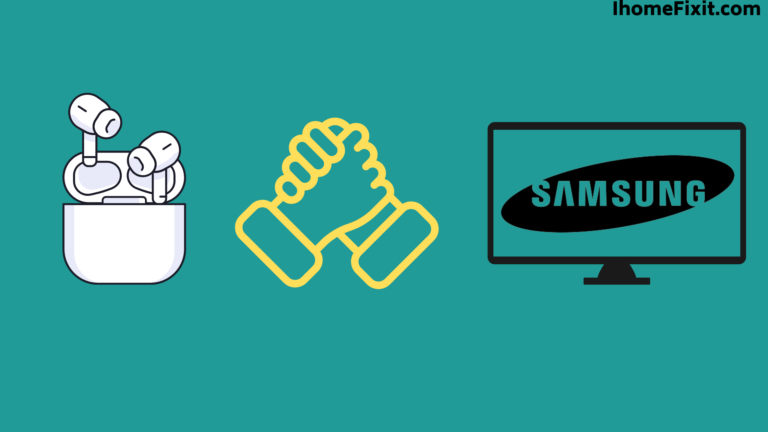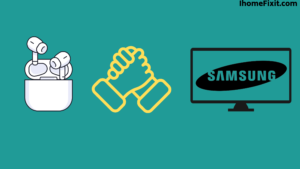 Apple Airpods is a very famous and favorite Bluetooth-connected device of people. If you have Samsung Smart TV and it has a Bluetooth option, then you can easily pair Airpods with Samsung TV. Samsung TVs have different settings according to the model, and in this, you have to find the Bluetooth option. This is a very important process with the help of which you can connect Apple AirPods to Samsung Smart TV.
Smart TV Has Bluetooth:
To pair the Samsung Smart TV and the AirPods together, both must have the Bluetooth function enabled. You need to know that you cannot connect AirPods to Samsung TV by any wireless means. Nowadays, all smart TVs come with Bluetooth functions. But still, for satisfaction, you need to check whether the Bluetooth transmitter and receiver in your TV are verified.
Suggested Read: Samsung TV No Sound | Common Causes and Solutions
Bluetooth Transmitter:
If you want to connect AirPods to another device wirelessly without Bluetooth, you can use a Bluetooth transmitter. Bluetooth transmitter is a wireless device that helps to connect headphones to any device. You need to plug the Bluetooth transmitter into the back of the Smart TV and then turn on Bluetooth to pair the AirPods.
By pairing both devices, you can stream audio from Chromecast. Then you have to check whether the TV and Airpods are connected or not. And you can increase the volume further by turning on the audio on the TV. You can enjoy entertainment once the AirPods are connected to the Samsung TV.
All Compatible Devices with Apple AirPods: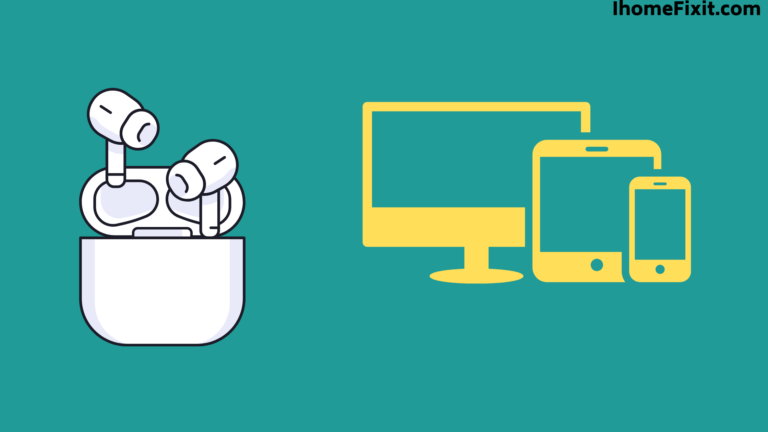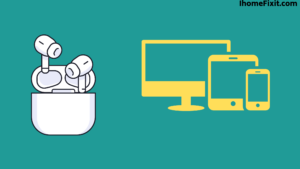 Apart from Apple Airpods, you can also use other Airpods in your Samsung Smart TV, but they must have Bluetooth function available. You can connect AirPods to Android smartphones and tablets, as well as Mac devices and PCs. By the way, you can connect AirPods to all devices with Bluetooth functions.
Use Your Samsung TV with Apple AirPods:
You shouldn't use Airpods every time you watch TV. Because the volume of the TV is loud and it gradually reduces your hearing power, which can be harmful to your ears. TVs have higher volume levels than phones and reduce your hearing. So it is better to use better speakers than Airpods in Samsung Smart TV. So that your ears will be protected.
Suggested Read: Where Is the Power Button on Samsung TV? | Complete Guide
Connect Apple Airpods to Samsung TV Via Bluetooth: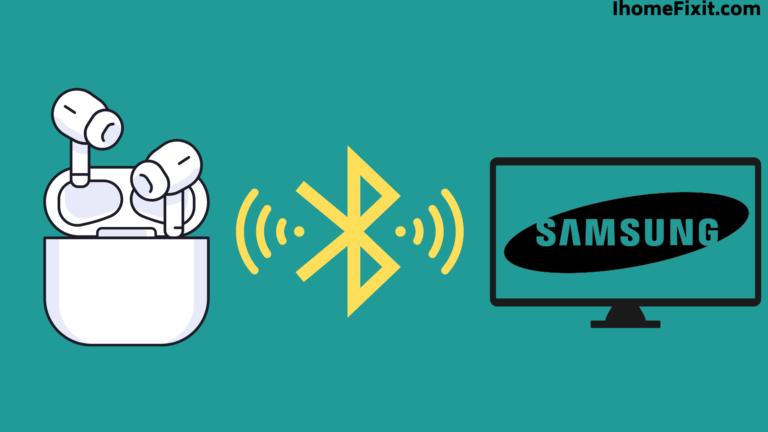 You can connect Apple AirPods to Samsung TV for your entertainment for some time. Whenever you enjoy it for the first time, it will be very better and more beautiful. But remember not to listen to the audio by repeatedly connecting the Airpods to the TV. Because it reduces the hearing power of your ear.
Whenever you connect AirPods to Samsung TVs, you can increase or decrease the volume level in them. And can enjoy entertainment on TV. The Samsung TV has Bluetooth function, and you can connect the Airpods via Bluetooth and pair the two devices to entertain yourself on the TV.
 To connect and pair AirPods with Samsung TV-
Place the AirPods inside the case and open the lid.
After seeing the white light on the Airpods case, you must press and hold the setup button for five seconds. This indicates that the Airpods are in pairing mode with the TV.
Then you have to turn on Bluetooth on your TV and check.
Refresh the Bluetooth list and select your AirPods.
Connect the AirPods after selecting them.
To disconnect Apple AirPods from Samsung TV-
When the TV and AirPods are in pairing mode, you'll need to open Settings in the TV's menu.
You have to search for connected Airpods by opening the Bluetooth list.
Then disconnect the connected AirPods by selecting them.
Suggested Read: Samsung TV Turning on and Off | Complete Guide
Airpods Not Connecting to My Samsung TV: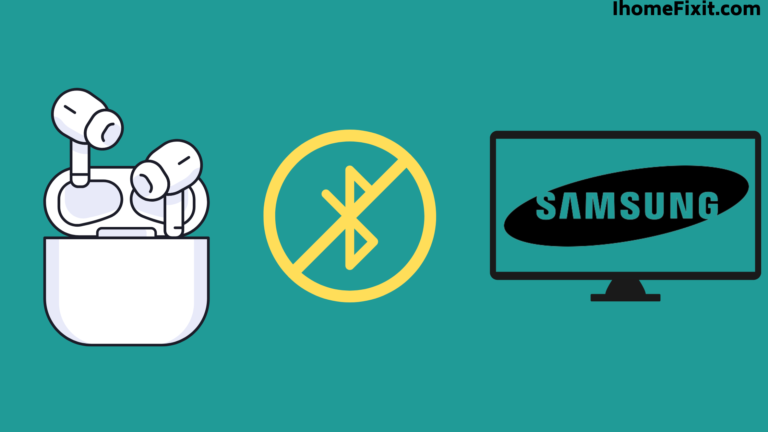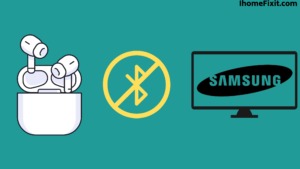 Whenever the AirPods are not paired with the Samsung Smart TV, refresh Bluetooth and toggle the Samsung TV on and off. Then take the AirPods out of the case and put them back in. This will refresh all devices and put the AirPods back into pairing mode with the Samsung TV.
To pair AirPods with Samsung TV, refresh the Bluetooth list in the TV and select and connect your AirPods. If the AirPods still don't pair with the Samsung TV, try restarting the TV. And then connect the AirPods. Now when you open the Bluetooth list on the TV, you will see your AirPods in it; you can select it and pair it with the TV.
How to Use Airpods on Non-Apple Devices:
Siri is only compatible with Apple devices. So it cannot be used by other company's equipment. You can try many features through Airpods, such as listening to audio by connecting to a smartphone and increasing or decreasing the volume in it. Along with this, you can also enjoy entertainment by connecting Airpods to Smart TV.
All AirPods require Bluetooth to connect to a device. Because Airpods are paired with any device via Bluetooth only. With this, you can enjoy audio and video. But whenever you connect AirPods to Samsung Smart TV or any other TV, you cannot fast-forward or rewind in it.
Suggested Read: Mode Not Supported Samsung TV | Troubleshooting Guide
How to Use Airpods with a TV with a Soundbar:
Each one has its own quirk. In this, you connect a separate soundbar to the TV to make it louder in the TV. If you want to connect Airpods to a TV that already has a soundbar connected, keep in mind that only one device can be connected via Bluetooth to any smart TV.
If you want to connect Airpods to Samsung TVs, you must turn off and disconnect the soundbar. Because only one device can be paired with Bluetooth on the TV.
To Connect Airpods to Roku TV or Roku Streaming Device-
First of all, you have to check whether Airpods are connected to the smartphone or not.
After this, download and install the Roku app on your smartphone. You can also install it from the App Store or Play Store.
And now, you have to select the device icon in the Roku app, which is at the bottom right.
Then you can select a Roku device.
After this, you must select Airpods or Headphone icons for the personal or private listening facility.
Your AirPods are connected to Roku, and you can now listen to audio.
Most Commonly Asked Questions: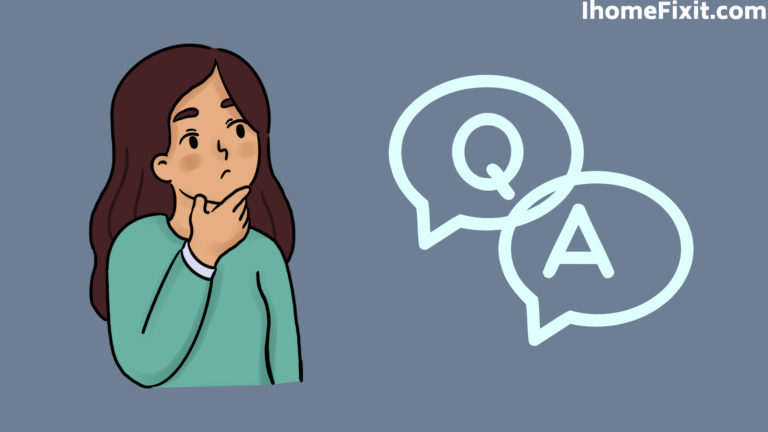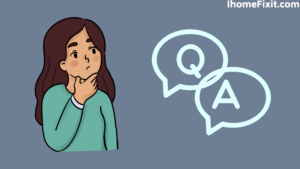 Why Won't My AirPods Connect to My Samsung TV?
If your AirPods won't pair with your TV, try disabling your Bluetooth and removing your AirPods from pairing mode. Now re-enable Bluetooth on your Samsung TV and put it in pairing mode again. When the changes take effect, refresh the list of available devices and find your AirPods there.
How Do I Connect My Airpods to My Smart TV?
With your AirPods in your ears, go to Settings > Remotes & Devices > Bluetooth. Choose your AirPods. Select Connect. On your Apple TV, your AirPods should now appear in My Devices.
Do Apple Airpods Work with Samsung?
You can certainly use AirPods as a Bluetooth headset with non-Apple devices, but you can't use Siri. But you can listen and talk as needed.
Does Samsung TV Have Bluetooth?
Many Samsung TVs in the market today come with Bluetooth capabilities. With this Bluetooth, you can wirelessly connect to speakers, headphones, hearing aids, and other devices. Connect a Bluetooth soundbar to your TV or Odyssey Arc gaming screen to get the most out of your favorite movies, or connect headphones for a private screening.
Like this post? Could you share it with your friends?
Suggested Read –
Conclusion:
Airpods are something that connects to any Bluetooth-connected device. If you have Apple's Airpods in it, then it is better because Apple AirPods easily connect to any device, and there is never much of a problem with the Apple AirPods.
Airpods are used by users for many purposes. Like listening to audio by pairing it with a smartphone. Pair it with Samsung Smart TV and enjoy TV entertainment. But with all this, you have to keep one thing in mind Apple Airpods or any AirPods are paired with Bluetooth-connected devices.